Jagadguru Shree Vallabhachrayaji also known as Shree Mahaprabhuji was born at Champaranya in 1479 A.D. i.e. Vikaram Samvat 1535 on the 11th day of the dark half of lunar month of chaitra. He was born at a time when Hindu religion and culture were in danger of being destroyed by the fanatic invaders. The birth of Shree Vallabhacharyaji heralded a new era in the history of Hindu religion. He saved Hindu religion from the savage attacks of Muslim rulers. He breathed new life into the people of India who had lost all hope of redemption under the rule of sword and terror. He was born into a very noble and learned Tailang Brahmin family in South India in what is today called Andhra Pradesh. His ancestors had a very staunch religious background and included learned Brahmins like Shri Yagnanarayan Bhatt and Shri Ganapati Bhatt.
According to devotional accounts, 'Sri Thakorji' (Krishna) commanded Yagnanarayana that He would take birth in their family after completion of 100 Somayagnas (fire sacrifices).Shri Vallabhacharya was the second son of Lakshman Bhatt and Illamagaru. Their ancestors had performed several Soma-yagnas and Shri Lakshman Bhatt completed 100 Somyagnas. After the destruction of Kankarkumbh by muslim invaders Shri Laxmanbhattji migrated to Banaras with a view to settle there.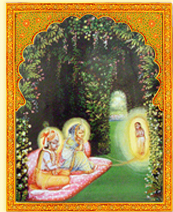 Shri Laxmanbhattji spent most of his time in the worship of Lord krishna and the study of religious scriptures. Once he heard the news of the impending Muslim invasion on Banaras. Admist widespread panic and consternation, it was not possible to stay there peacefully. Besides, his wife, Illamagaru, was pregnant. He decided to leave Kashi for some safer place & started towards the South. When they arrived at Champarany, Illamagaru was overcome with fatigue. She began to experience pain in the abdomen and she gave birth to a premature child. Considering the child to be still - born and dead the mother enveloped the babe in leaves and put it in the cavity of a Shami tree. Having gone a little distance, the party resed on the bank of the river. "I have come to you in the form of a newly born child. The child will protect Hindu religion and Culture."
Having heard this divine voice in a dream the parents immediately went back to the aforesaid Shami Tree where, to their great joy and surprise, the child was sporting about in the midst of the encircling flame of fire ! No body was ever happier or more fortunate than the parents of the child; There was a halo of divine light round its face. Its eyes were radiating grace and nectar as it were ! He was smiling. The wing was blowing gently. The ferocious animals forgot their cruel nature in the presence of the deer and gazed at the child with steady eyes. The moon and the auspicious constellation appeared in the sky. The mother Illamagaru picked and hugged it to her heart.